"I've been using this since 2001 and released it to the public in 2006, profits have continue each year…"

FLAT LAYEM

2012 +49pts
HORSE RACING LAYING SYSTEM
Covers racing in England, Scotland & Wales
Includes Turf & AW
eBook Package Contains;
** 1 LAY SYSTEM **
FLAT – LAYEM – 88%
Staking Plan + Bank Management + Q&A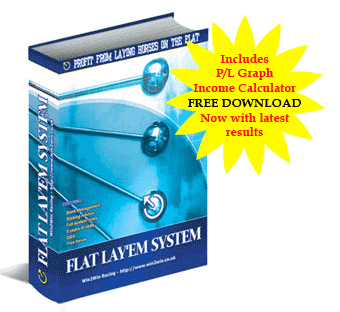 Staking to 1% since 2009 – Starting Bank £1000 – 5% Betfair Commission
Staking to 1% since 2009 – Starting Bank £1000 – 4% Betfair Commission
From the above you can clearly see how much difference a 1% drop in commission makes to the overall long term profits and this is easily achievable once you have been betting for only a few months.
| | | | | | |
| --- | --- | --- | --- | --- | --- |
| Year | Runners | Winners | Win S/R | Lay P/L BF | Lay ROI BF |
| 2009 | 810 | 79 | 9.75 | 155.42 | 19.19 |
| 2010 | 772 | 90 | 11.66 | 76.64 | 9.93 |
| 2011 | 843 | 99 | 11.74 | 61.14 | 7.25 |
| 2012 | 674 | 79 | 11.72 | 48.35 | 7.17 |
Above you can see the yearly profit from 2009 onwards. These results are to 1 point level stakes.
So How Much Can You Make?
I never make false get rich quick promises, this just is not possible in professional gambling, but you will make steady profits, and the bigger your betting bank gets the more profit you make. Professional gambling is all about protecting the betting bank so you never get into a situation that you can lose all of it, but stick to the rules I supply, and you should never get in that situation anyway.
The system involves a simple to use staking plan, nothing complex, and nor does it include any kind of recovery plan, a surefire way to break the bank when laying.
The betting bank is based on stakes you can get placed with little problem on the betting exchanges, no stupid rollover stakes to horrendous figures, this is a professional plan, by a professional gambler who takes as small a risk as possible.
Max stake is set at £100, raising this would have produced higher profits in the last few years. Commission is set at 5% for all bets, however it would be below 4% by the 2nd year of betting and continue to drop each year
Please be aware that laying is highly volatile as you can see from the peaks and troughs on the graph. It is 'normal' for a bank to drop 50% at some point, but as shown, if you stick with it the payoffs are huge.

Everything You Need To Profit Is Included…
1 Proven Profitable Lay system

Full results since 2001 can be downloaded from HERE

Best staking plan to maximise profits

Clear rules for the system

All rules explained

Bank management advice

Around 20 bets a week average

FAQ's

Supplied by a respected pro-punter, just check my forum

88% Strike rate system

You can ask me any question you want via the forum
Rather than go on and on about these systems I will let the results I've given you
speak for themselves. The download above is in XLS format. It is in Microsoft Excel format, but you can download the free 'Excel Reader'
or 'Open Office' to view it.

So How Much Is This Going To Cost Me?
Over the years I have always believed in giving the best value to punters.
Each year since I first started using it myself with real money way back in 2001 this horse racing lay system has produced fantastic profits. Stick to the rules I give you, and you will see your bank grow over the long term. With laying, individual results do not matter, as this is the way bookmakers do business, it is all about turnover and the long term in order to profit regardless of the up and downs inbetween.
I originally sold this for £30 when first released, and to be honest with PROVEN results like these I should be charging far more. However, my usual rule of giving value to the punter stands and I have decided to reduce the price for a while to just £20!!
It will at some point though return to £30.

Get Yourself A Copy TODAY…..
Get instant access right now.

Yes! I want to get this fantastic product right now. I understand that I will get:
An ebook to download
Staking plans for the system
Help via the forum
Bank management advice
Click the link below to order your copy of
FLAT LAYEM
via our secure payment system for
ONLY £30 £20
Thanks,
Buy all 4 Win2Win system ebooks for only £60 and save yourself £52.50
Pro-Gambler & Managing Director of Win2Win Limited
P.S. Do not forget to vist the Free Tips page on my site and bookmark the page.
P.P.S. For all my professional betting lists join Win2Win Racing for only £30 month.
Affiliates earn 50% by selling our products. Sign Up
Horse Racing System | Staking Plan | Betting bank | Betting exchanges

5 Star Rated Reviews

People discovered this page searching for:
maximum stake of a professional gambler
lay em horse racing system review
layem horse racing
fibonacci betting system xls
flat layem review
horse races statistics xls
babestation forum
win2win pro-bets win market or placed ?
Flat Layem