Usually confined to your television or computer, the world of sport can now be accessed on your mobile device, through the use of sites such as SportStreaming24.com. Unlike many online streams, those found on SportStreaming24 are perfectly legal and provided by sites such as Bet365. With the new addition of an app designed specifically for iPhone and iPad, it's never been easier to find the games you want to watch. 
The live supply coverage goes from Football (Primera Division , Bundesliga , Serie A , MLS , Copa Libertadores), Basketball (NBA , Euroleague , ACB) , Tennis (ATP World Tour , Grand Slams Wimbledon , Roland Garros , US Open , Australian Open) to Cricket (ODI Series , T20's), Ice Hockey (NHL , KHL) , Rugby League (NRL) and many others (Volleyball , Handball , Snooker , Darts , Table Tennis). 
SportStreaming24 features a live calendar, providing links to every major league in football and other sports, such as  NBA and NHL. After simply selecting one or more sports that interest you, the site generates a list of every game taking place either on that day or during the period you've specified. Then, it's just a matter of selecting the match you want to view and clicking the "Watch" button. What is really exciting about live sports is the fact that you are able to follow ipad live football streaming matches by using your mobile smartphone/ Apple iOS or Andoid software.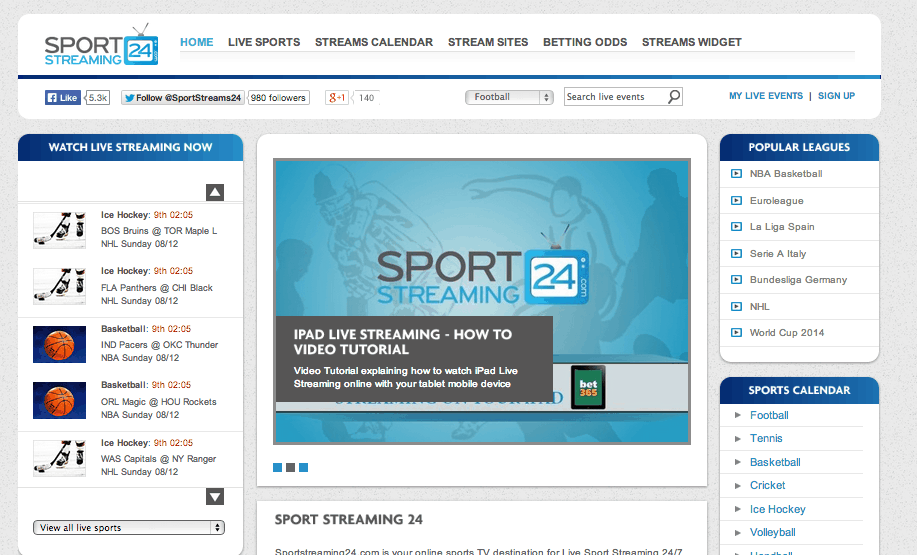 The site then gives you easy to follow instructions for whichever site is offering a stream for your game of choice, and how to access it. In the case of Bet365, for example, you just need to sign up and deposit the minimum amount of funding, which you will not be required to spend, to gain access to the vast amount of streams they offer. 
Streaming is a great opportunity to see matches featuring teams you might otherwise never get a chance to watch. While it's possible to catch some of the biggest games from abroad on TV, use of the streams provided by SportStreaming24 allows you to see almost every match in every major league in the world. If you feel like exploring Serie A , Primera Division or Ligue 1 for the first time, this will give you the perfect opportunity. 
Thanks to SportStreaming24, now there's no reason to miss the games you want to watch. You can keep up with your team whether you're in the garden, on the train or working late. The power to watch any match on your iPhone is an amazing feature and one that lets you take your favourite sport with you, wherever you go. 
SportStreaming24 can be found online at a variety of social networking sites, and they are happy to answer any questions you might have about how to access their services:
Facebook:      SportStreaming24
Twitter:         @SportStreams24
YouTube:      SportStreaming24
Google+:       plus.google.com/+Sportstreaming24
 For detailed advice on how to do this, as well as visual examples, head over to the SportStreaming24 YouTube channel , which has a three minute video tutorial on how to watch matches on your mobile device. By using this, anybody can gain access to sports streams on their iPhone.
 YouTube Video Tutorial  : http://www.youtube.com/watch?v=uNPqr341J7o