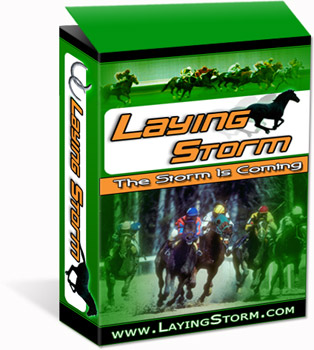 CLAIMS

" STOP!
Before YOU lay another horse on Betfair, read EVERY single word on this page…
WHY? Because I'm looking for 100 punters who would like to learn the Insider Secrets to Laying Horses on Betfair…
AND teach them the Step-By-Step process to cash in each and every day! "
Win2Win Racing Comments:
It is not as easy profiting from lays as many people think. By the time you have taken off your exchange commission, and the overbet, this can put a big dents in any profits. The Laying Storm is a system that supplies lays on a daily basis. You must give services like these at least 6 months trial, a few weeks is nowhere near long enough when it comes to laying.
From numerous independent reviews this system, you can expect a strike rate around the 90% mark. Generally speaking, anything over 86% should result in a profit. Obviously the lower your exchange commission the more you can profit.
If you are a complete beginner, you are supplied with full instructions on using Betfair.
Selections can be done whenever you like, as usual though it is best to use the Racing Post. Selections should take only 15-20 minutes once you are used to it, and you can end up with a long list on busy racing days. As laying usually revolves around turnover, this is a good thing.
Software is included to ensure you are using the correct stakes, and this will give you some control over your betting bank, although you do not have to use it.
Laying Storm Review